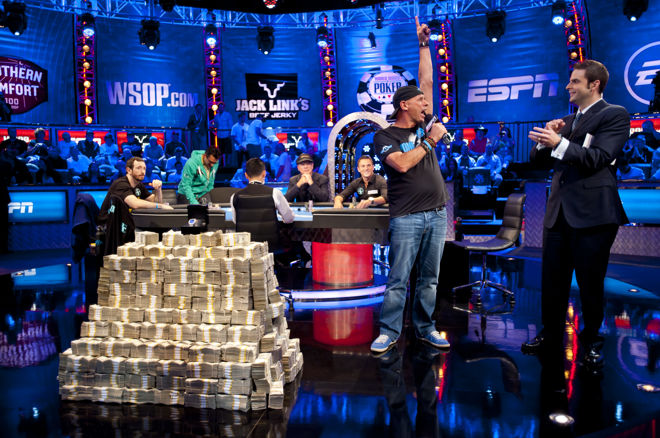 The Big One for One Drop Invitational announced last week that it has locked up 35 players to participate in the €1 million blockbuster poker tournament. The Invitational is part of a week-long Big One for One Drop Extravaganza taking place October 13th through October 17th at the Casino de Monte-Carlo in Monaco; the Big One for One Drop Invitational will be held on Friday, October 14th.
Readers will likely recall that the Big One for One Drop debuted at the 2012 World Series of Poker as the most expensive live poker tournament in history with a $1 million buy-in. It was the creation of Guy Laliberte, founder of Cirque du Soleil and the One Drop organization, whose goal is to make safe, clean water accessible to everybody worldwide. Caesars Entertainment and the WSOP took no fee from the event and $111,111 of every buy-in went directly to One Drop. Antonio Esfandiari won the first Big One, cashing for $18.3 million in a field of 48 players.
The tournament returned in 2014 (gotta take a year off to replenish those cash reserves) with 42 players competing for the gigantic prize pool. Daniel Colman won it for $15.3 million.
This year, things are different. The Big One for One Drop was not on the WSOP schedule, though smaller One Drop events were. Instead, Guy Laliberte (likely with the approval of Caesars, which is also involved in the new event) not only moved it to Monaco, but made it an invitation-only tournament. Now, we have seen plenty of lucrative or made-for-TV invitational poker tournaments before, but this one is unique in that it is for recreational players only. Antonio Esfandiari, Daniel Colman and all the other poker pros are forbidden from playing. When the tournament was announced, Laliberte said:
From the beginning, we knew that The Big One for One Drop was a unique event. This year, by shifting the focus to recreational players, we're looking to bring fun and innovation to charitable giving. We believe the events in Monaco will attract high net-worth individuals from across the globe to enjoy the game, the networking opportunities and the incredible VIP experiences only available in one of the world's most iconic settings.
This would seem to imply that the "high net-worth" recreational players were not enjoying themselves at previous Big Ones. They may have wanted to participate in a worthwhile charitable event with a chance at winning big bucks, not realizing how filled it would be with pros. Some non-poker pros made the final table each year, but overall, the prizes were dominated by the poker experts.
Considering that the previous two Big Ones didn't even get 50 players (which isn't surprising – $1 million is a lot of money), the fact that as of last Tuesday there were already 35 rich, casual poker players signed up is fairly impressive. At this point, one could see the Invitational at least matching the 2014 Big One for One Drop's size. In addition, the tournament is a re-entry event, so those who really want to go nuts can put in another €1 million if they bust out to try again.
In addition to the Big One for One Drop Invitational, there will be seven other tournaments during the Extravaganza with a minimum buy-in of €10,000. There will also be super satellites held for the Big One event.